The Opening of Music & Art

An article from the NY Times (Dec 29, 1935) announcing the forthcoming HSM&A.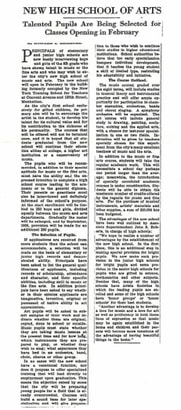 NEW HIGH SCHOOL OF ARTS
Talented Pupils Are Being Selected for
Classes Opening in February

Principals of elementary and junior high schools are now busily interviewing boys and girls of the 8th grade who have shown talent in music or the fine arts and who may wish to enter the city's new high school of music and arts. The new school will open in February in the building formerly occupied by the New York Training School for Teachers at Convent Avenue and 135th Street, Manhattan.

As the city's first school exclusively for gifted children, it's primary aim will be to encourage the artist in the student, to develop his talent for its cultural value and for its contribution to the richness of his personality. The courses that will be offered will not be terminal ones, and it is hoped that all students graduated from the new school will continue their education either at college, a higher art institution or a conservatory of music.

The students who will be recommended, in addition to their special aptitude for music or the fine arts, must have the ability and the expressed intention to complete a high school course leading to the academic or to the general diploma. Their parents or guardians must also be interviewed and definitely informed of the school's purpose. At the start enrollment will be limited to 250 boys and girls, divided equally the music and arts departments. Gradually the roster will be enlarged, and by September 1938, provision will be made for an additional 250 pupils.

The Selection of Pupils

If applications are received from more students than the school can accommodate, a selection will be made on the basis of elementary or junior high records and demonstrated ability. Principals have been asked to list the general qualifications of the applicants, including records of scholarship, attendance and character, and their specific abilities including skill in music and or the fine arts. In addition principals have been asked to say whether in their opinion applicants are imaginative, inventive, original or possessed of native ability in art appreciation.

Art pupils will be asked to submit samples of their work and indicate whether these are original, copied, done in school or outside. Music pupils must state whether they are taking music lessons at the present time and for how long, which instruments they are prepared to play or whether they wish to sing; what experience they have had a an orchestra, band, choir, chorus or other group.

In no sense will the new school have a vocational function, nor does it propose to offer specialized training that lead directly to employment upon graduation. This meets the objection raised by some that the city will be preparing young people for a field that is already overcrowded. Courses will build a sound base for later specialization and will give preparation to those who wish to continue their studies in higher educational institutions. School authorities believe that too early specialization hampers individual development, that it teaches the young student a skill of limited type, restricting his adaptability and initiative.

---
The Course Outlined
| | |
| --- | --- |
| The music course, graded over the eight terms, will include studies in music theory and instrumental practice and will offer ample opportunity for participation in chamber ensembles, orchestra, bands and choral singing. A symphony orchestra will be organized. The art course will include general study in drawing, painting, sculpture, etching and the applied arts with a chance for last year specialization in one or two fields. Instruction will be given by teachers especially chosen for this experiment from the city's many excellent teachers of music and the arts. | |
In addition to the music or fine arts course, students will take the regular academic work. This will necessitate a school day perhaps one period longer than the average; meanwhile, the introduction of specially correlated academic courses is under consideration. Students will be able to obtain the maximum number of credits offered by the regents for music and fine arts. For the purchase of musical instruments, artists' materials and other supplies, a sum of $20,000 has been budgeted.
The advantages of the new school have been well outlined by Associate Superintendent John S. Roberts, in charge of high schools.

"We hope to realize a number of advantages by the establishment of the new high school. In the first place, this is an additional step in making special provision for bright pupils. We now make such provision in junior high schools for bright pupils and some provision in the senior high schools for pupils who are gifted in science, mathematics and other subjects. Besides that, many of the high schools have Arista Societies in which the leading pupils are enrolled and some of the high schools have 'honor groups' or 'honor schools' for their best students.

"Another advantage is to develop a love for music and a love for art as well as proficiency in both these lines of expression so that music may be again established in the home and children and their parents will become more conscious of the advantage of having beautiful things in the home."
- End of Article -
---
Further Information - Source: Wikipedia
Historical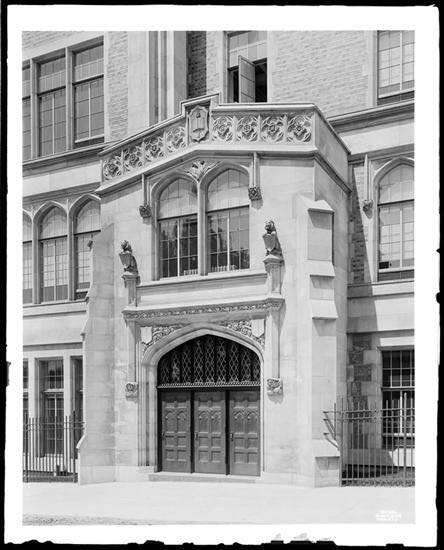 Architectural significance
The 1924 gothic revival building won status as a landmark by the New York City Landmarks Preservation Commission in 1997.[2] The building was designed by William H. Gompert, Architect & Superintendent of School Buildings for the New York City Board of Education, to house the New York Training School for Teachers. The Training School became the New York Teachers Training College from 1931 to 1933. That school was abolished during the Depression when there was a surplus of teachers for the city's school system, and Mayor LaGuardia used the opportunity to create the High School of Music & Art.Architecturally, the building blends in with the older gothic revival buildings of the City College campus, designed by noted architect George B. Post around 1900 to create a setting that came to be known as "the poor man's Harvard."Music & Art graduates often refer to the building as "The Castle," a reference to the design of its gothic towers, and the decorative gargoyles done in a quirky and playful style that the Landmarks Commission report describes as "finials in the shape of creatures bearing shields." The tower rooms have dramatic acoustics, which Music & Art used as choral practice rooms. The large gymnasium features large Tudor-arch-shaped windows on two sides that at certain times during the day stream sunlight into the room. The auditorium has excellent acoustics, and features diamond-shaped amber windows that during daylight cast a warm glow on its dark wood interior. The iron ends of the auditorium seats have a casting with an image of the Tudor window arches in the gymasium.According to the Landmark Commission report, this was not an expensive building for its time, and many of the structural components (like the staircase bracings in the stairwell) were left exposed to save money. Yet lots of thought went into humanizing the space and creating a good environment for learning, with plenty of natural light and air, expansive collaborative spaces, and lots of playful decoration thrown in for good measure:"The five- and six-story (plus basement and central tower) L-shaped New York Training School for Teachers/New York Model School was designed in an abstracted contemporary Collegiate Gothic style and clad in limestone and mottled buff-to brown iron-spot brick, with large window bays filled with unusual folding-casement steel sash windows. Exterior articulation, divided vertically by pavilions, buttresses, and square towers, also differentiated the model school and training school portions, as well as a 'churchlike' wing housing an auditorium above which is a gymnasium."

Information Source: Wikipedia - https://en.wikipedia.org/wiki/The_High_School_of_Music_%26_Art
---
---
NY Training School for Teachers - Auditorium in 1931 (when there was an organ).
​The Estey organ was installed in two chambers, one on either side of the stage, that were masked with display pipes.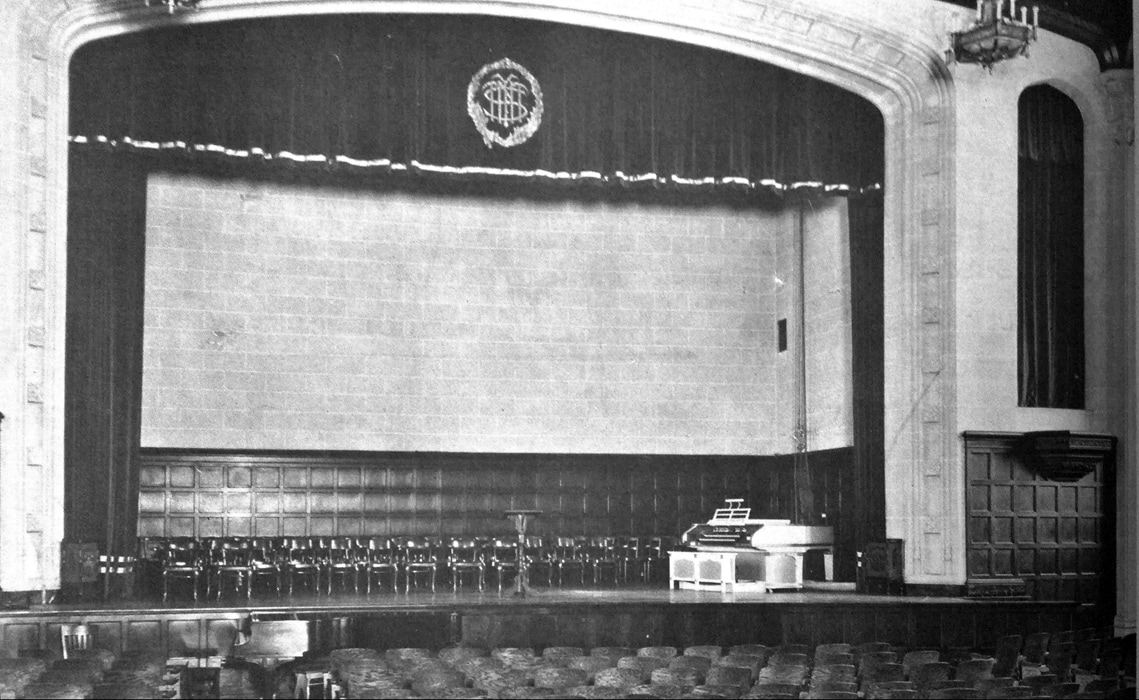 For more detailed information on the birth and history of the building, check out:
---
In order to submit any work to be posted or just ask a question, please contact me at
​LloydGreen@EndlessPerceptions.com.